Job seekers
L'ÉTAPE OFFERS ITS SPECIALIZED EMPLOYMENT INTEGRATION SERVICES IN TWO LOCATIONS: L'ÉTAPE MONTREAL AND L'ÉTAPE LAVAL.
All our services are free.
The services are offered in French or English, in Quebec Sign Language (LSQ) and American Sign Language (ASL).
Services
NEW – Internship Project

L'ÉTAPE helps students in their final year of a professional college or university program to succeed in their internship, regardless of their limitations.

The steps of the Internship Project :

Raising the employer's awareness of the student's challenge
Intervention in the internship environment, as needed and with the student's consent
Targeting of environments that are open to welcoming a student with a disability
Working with the student in their search for an internship and the selection process
L'ÉTAPE offers its services to people with disabilities that need adapted assistance services in their job search and subsequently, to stay employed.
Our services are part of a global approach based on an assessment of a person's individual needs and the recognition and harnessing of his/her strengths.
Employment service adapted to the needs and condition of the person
Individual counseling and follow-up
Assessment of the person's employability, skills and capacities
Guidance for professional and educational decision-making
Preparation of efficient job search tools: résumé and letter of introduction
Step-by-step job search plans
Preparation for job interviews and advice on how to explain one's disability to employers
Adaptation of workstation
Post-hiring follow-up, coaching in the workplace and intervention to ensure job retention
Evaluation of eligibility to a financial employment assistance program for people with disabilities
Documentation Centre: computers, Internet access, job offer postings
Testimonies
My name is Dmitri Stroilov. I started school at Centre Anjou. I followed the professional training (DEP) program in machining techniques for one year. After that, I moved to the next level and studied for six months to get my certification and professional specialization (ASP).
I started Spectra Prenium in 2009. I was in training for 2-3 weeks. This was an opportunity to acquire job-ready abilities to advance my career, and it gave me a real sense of pride and accomplishment. Then, I gained experience and became highly skilled. My experienced coworker helped me communicate. I am using paper to write and communicate with my supervisor and my coworkers.
L'ÉTAPE helped me find a job as a machinist and I am very happy about it. Thanks to all of you!
Dmitri Stroilov – Machinist at Industries Spectra Prenium
L'ÉTAPE has allowed me to acquire more self-confidence and improve my skills in job interviews. They helped me prepare for my job search. At L'ÉTAPE, the staff is very friendly, polite and reliable, especially my employment counsellor. L'ÉTAPE offers a well-organized service that is faithful to its name (Étape means step in French). They offered me a very good and efficient service.
Hoang Oanh Pham – receptionist at Les Dragons d'Or
OUR METHODOLOGY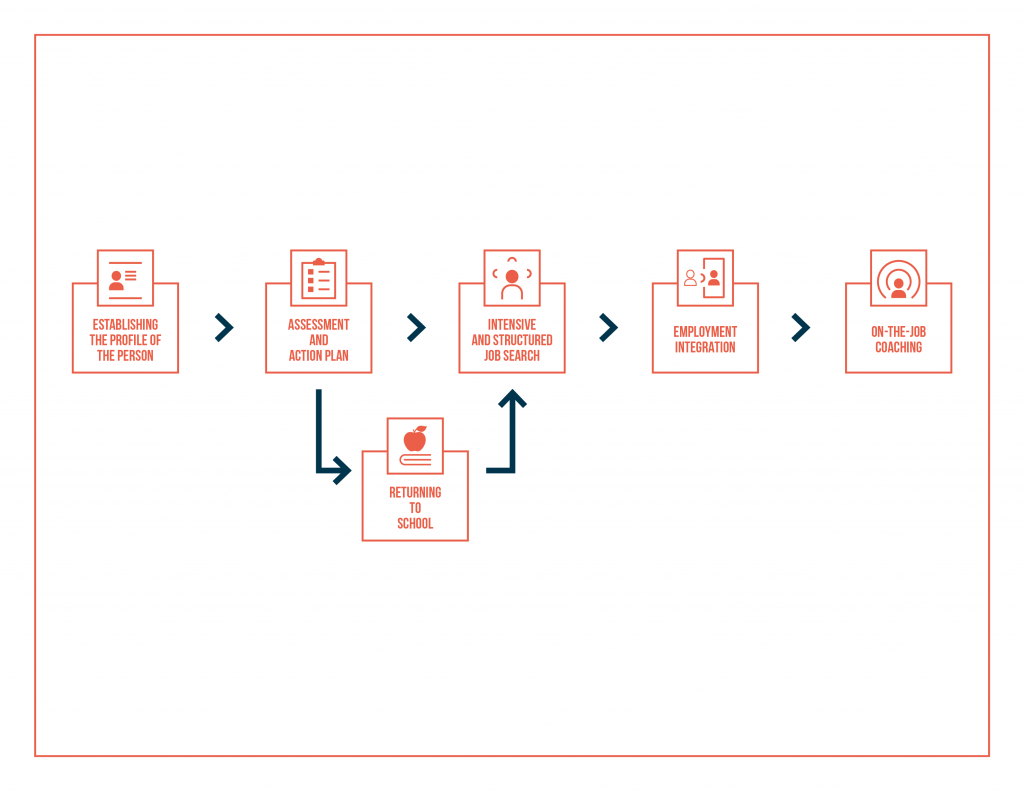 L'ÉTAPE – Who can benefit from our services?
Any person residing on the island of Montreal (If you live in Laval, click here)
Any person with a physical or hearing disability, a language impairment, an intellectual disability or with an autism spectrum disorder
The person must be available to participate in activities related to the job search
To register, please call us at 514 526-0887 or fill in the form below: